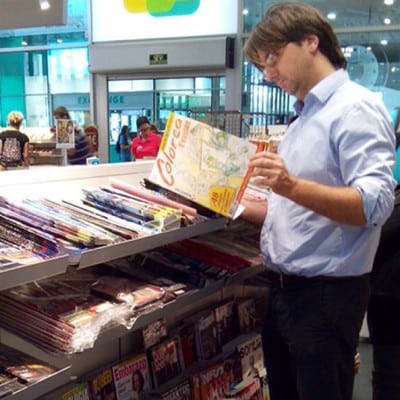 When David Wakefield began working with Keesing Spain, he signed up for a one-year project. Today, he is celebrating his ten-year milestone. And while David had never heard of Keesing before he joined, he's stayed on for its unique culture and more. 
"It was an exciting challenge to expand the Megastar brand to the Spanish markets. While I wasn't very familiar with the puzzle industry, all of the people were friendly and professional, which made it an easy decision."  
David's responsibilities range from bringing in new business, growing client and distributor relationships to expanding digital and B2B products. His greatest challenge has been to grow the business in Spain from the ground up. "We're still small compared to other Keesing country locations but we keep growing organically and are aligned with the company's strategy." Meanwhile his biggest accomplishment has been to develop the unique Keesing culture. "It's a very open culture where our team is autonomous and everyone is encouraged to be independent and informal." 
Think big. It's a brilliant time to join Keesing
.
David thrives on challenge and enjoy its people and culture. "In spite of our smaller team, Keesing as a group always makes us feel like we're not alone and encourages us to expand the business under the inspiring leadership of our CEO Philip Alberdingk Thijm." 
David spends his free time with his wife and two children and enjoys playing Padel. If you ask David why you should join Keesing, he says, "Think big. It's a brilliant time to join Keesing. It keeps developing and you'll have opportunities you can create yourself to grow your professional career in a very positive environment." 
In a nutshell: 
Title: Head of Keesing Spain

 

How long with Keesing: 10 years

 

Country location: Spain

 

Keesing in one word: Family

 

Favorite puzzle: Sudoku